Everything You Need To
Shed 7-12+ Pounds Of Stubborn Fat
in 4 Weeks with Our Quick 30-Min Workouts!
We've removed all the risks and dOUBLED the rewards! Love your results or get your money back – guaranteed
We call our new program the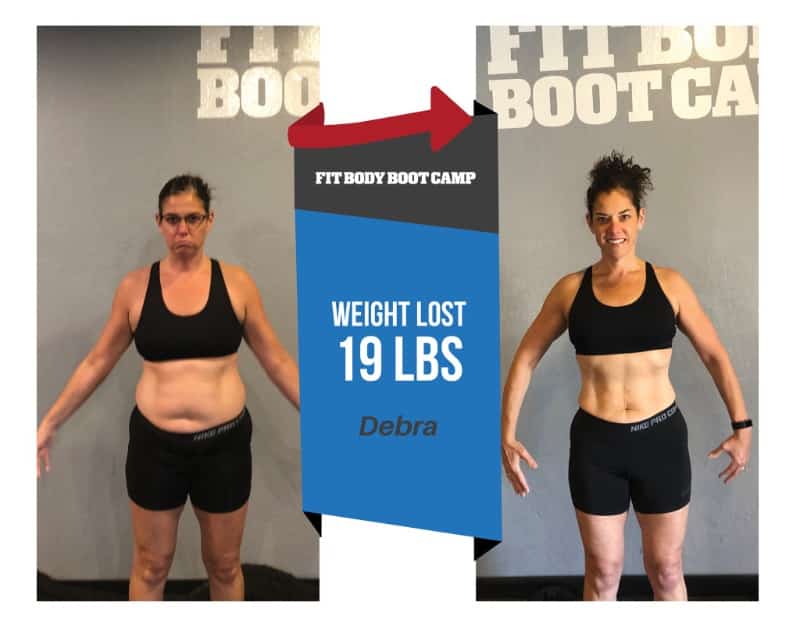 Program Kicks Off Every Monday
– Secure Your Spot and
Get 60% OFF
if You're Among the
First 16 to Register
.
Best part is if you LOVE IT ❤️ and want to stay, we will double the money you paid for your challenge and put it towards an ongoing membership!
Only 5 spots left
To start this coming Monday
We made sure of 2 important things.
1.
You never have to fear committing to a contract or cancellation fees.
2.
You never have to spend hours at the gym organizing your own workouts, counting reps, setting timers, and arranging weights.
The 4-Week Love It Or Leave It Challenge is a step-by-step program that includes unlimited fat-burning workouts, signature nutritional guidance, positive support, unbelievable motivation, and unmatched accountability.
This program is right for you if…
See what kind of results our clients have achieved, and YOU can too
Register today and get
60% OFF!
ONLY available to the first 16 people who register.
Only 5 spots left
To start this coming Monday
Then 4 weekly payments of $15 once the program starts.
Our Current Boot Camp Sessions:
We have options that work for EVERYONE.  And because the workouts are only 30 minutes — you'll be in and out in no time.
Sioux Falls CENTRAL Schedule:
MONDAYS, WEDNESDAYS, and FRIDAYS: 
5:00 am, 6:00 am, 7:00 am, 8:15 am, 12:00 pm, 3:30 pm, 4:30 pm, 5:30 pm, 6:30 pm
TUESDAYS and THURSDAYS: 
5:00 am, 6:00 am, 7:00 am, 8:15 am, 3:30 pm, 4:30 pm, 5:30 pm, 6:30 pm
SATURDAYS: 
7:30 am, 8:30 am, 9:30 am
Sioux Falls WEST Schedule:
MONDAY – FRIDAY:
5:15 am, 6:15 am, 8:15 am, 9:15 am, 3:45 pm, 4:45 pm, 5:45 pm
SATURDAY:
8:15am, 9:15am
SIOUX FALLS CENTRAL is located at 3324 S Duluth Ave. Sioux Falls, SD 57105.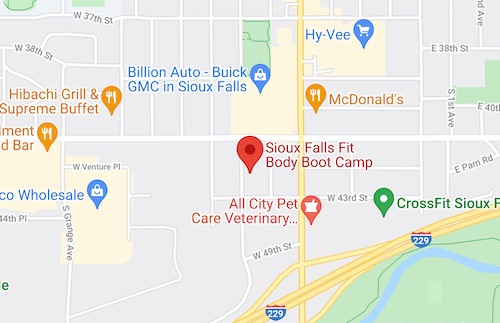 SIOUX FALL WEST is located at 8501 W. 26th St Sioux Falls, SD 57106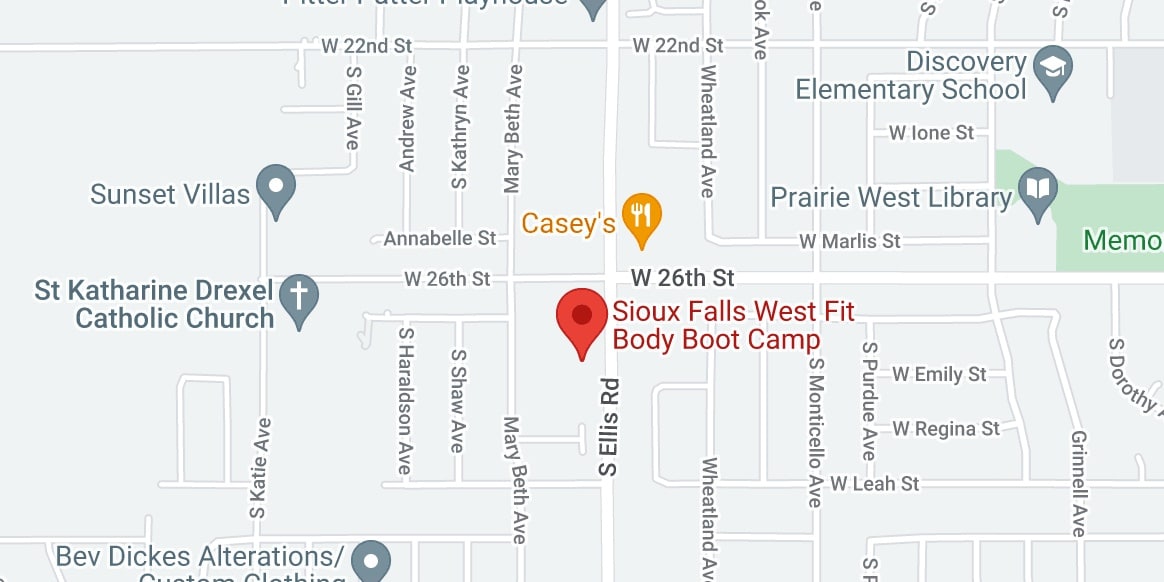 Unlimited GROUP PERSONAL TRAINING
Enjoy unlimited access to our group training sessions, perfectly blending strength and cardio to ramp up your metabolism and torch fat.
EASY-TO-FOLLOW NUTRITIONAL GUIDE
We removed all the confusion that comes with eating healthy. You will nourish your body with healthy whole foods while increasing energy and dropping sizes without feeling hungry or having to give up your favorite foods completely.
POSITIVE SUPPORT, MOTIVATION & UNMATCHED ACCOUNTABILITY
We will guide, encourage, motivate, and keep your head in the game. The days of trying to lose weight on your own are over. Let's do it as a team!
Reaching your fitness goals becomes much easier when you have a group of like-minded peers on the same path as you.
You're not joining a gym; you're joining a community!
Get Started In A Welcoming, Supportive, And Non-Judgemental Environment You'll Surely Love.
A JOURNEY OF A THOUSAND MILES MUST BEGIN WITH A SINGLE STEP.
Real results from people just like you. If they can do it, so can you!
Don't take our word for it. Read for yourself.
Most frequent questions and answers
We do one thing better than anyone else and that is to deliver life-changing results. That is why we offer an Unconditional Money-Back Guarantee.
If you don't love the program and are not 100% satisfied with your results or your experience, we will give you 100% of your money back.
How can we be so confident?!
Because we have helped 1,000's of people like you.
Show up, follow the program, and we are confident this will be the last Fitness Program you will ever join.